IsoWhey Sports Running E-Book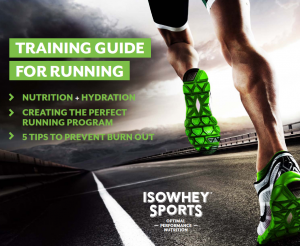 When you're training to run a long distance, or taking part in an intense physical program, your body has significantly higher demands.
These increased needs are met through improved nutrition, technique and performance training as well as supplementation to overcome noted deficits.
Complications such as muscle soreness and oxidative stress, that are often experienced by athletes, can also be reduced through the right recovery technique.
The IsoWhey Sports Training Guide for Running provides research, guidance and tips from our team of qualified healthcare practitioners and clinical nutrition specialists who have helped design a cutting edge and holistic training program based on years of scientific research and experience.
To download this E-Book, click on the link – isowhey-sports-running-ebook