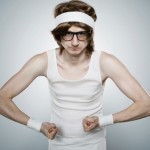 With many of us engaged in a constant battle of the bulge, the idea of being too thin makes us green with envy.
It's not much fun, though, for people who are desperately trying to put on weight.
It definitely isn't something to be jealous of.
For people who struggle to maintain a healthy weight or are trying to gain weight, it can be a real challenge.
If you want or need to gain weight, this is Emed's guide to do it the healthy way - which is not about stuffing your face at the all-you-can-eat buffet.
Read More