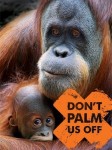 Palm oil is an edible plant oil, high in saturated fats, that is derived from the fruit of the oil palm tree.
It's the world's most widely used vegetable oil and can be found in processed foods like chocolate, hot cross buns, biscuits, chips and ice cream.
According to figures from the Roundtable on Sustainable Palm Oil (RSPO), palm oil can be found in up to 50 per cent of the packaged food products on our shelves.
It can also be found in many cosmetics, lipsticks, shampoos, conditioners and moisturisers.
Read More