Why Change Our Diet?
In short – Because it is NOT WORKING.
In Australia most adults are overweight (65%) and a large percentage are clinically obese.
As for our children, 40% are overweight by the time they turn 12 and about half of that 40% are clinically obese. They never had a chance!
We are now the fattest country (per capita) IN THE WORLD.
If that does not provide a catalyst for change then I don't what will.
In the 1980′s and 90′s "low fat" was in. We all tried to eat low fat foods (and still do) thinking we are doing the right thing. The food and beverage market responded by bringing out an incredible range of "low fat" products usually laced with excess sugar (bad) or artificial sweeteners (worse) to appease our taste buds.
We are now paying the penalty for this galatically stupid blunder. We got fatter and the type 2 diabetes rates went through the roof.
Do we need another "diet site"? No. What we do need is a site that presents optimal nutritional protocols, not the lastest fad diet!
What should I eat? What should I avoid? What should I include in my diet if I have a particular condition? How much water should I drink? What supplements should I consider taking if I am taking drug medication? There are many things to consider.
Common Myths
We all like to think we are doing the right thing. But it is a little harder to see it though. Why? Mis-information. It seems there is a new diet every week. And then there is a "independent expert" ridiculing it the next. (The "independent expert" usually presents a particular food group that was not advocated in that particular diet.)
So what are the common myths or mis-conceptions held by so many of us?
Most of us think we have a good diet. But we don't.
Most of us think that we can get all our nutrients from our food. Wrong!
Most of us are chronically dehydrated.
Most of us eat too infrequently.
Most of us eat too much to late in the day.
Most of us think if we eat fat we will get fat.
Most of us eat 4 to 6 (or more) serves of highly processed wheat and think we are eating "healthy".
Most of us don't know whether we should eat things like eggs or potatoes because we don't know who to believe.
Health promoting nutrition means that you need to eat generous quantities of fruits, vegetables (good sources of carbohydrates), nuts,seeds, and berries. But they must also be combined with good sources ofprotein and I will explain why a little later.
Good sources of protein are lean meats such as coldwater fish, chicken and turkey. I also advocate soy protein and wheyprotein for their high-quality, anti-cancer, cardioprotective, andmood-enhancing benefits.
Doing this will keep your metabolism ticking along quite nicely,you wont get hungry, your blood sugar levels will remain stable and youwont feel tired!
Fat, fat, fat!
Would all of our weight loss problems be solved if we just eliminated fat from our diets? Unfortunately, it's not that simple.
We actually need fats – can't live without them, in fact.
It's easy to get confused about good fats vs. bad fats, Emed outlines the 'skinny' on fats.
The National Health and Medical Research Council (NHMRC) recommends that adults eat 5 serves of vegetables and 2 serves of fruit every day.
Are you getting your 5 and 2 each day?
If your answer is no, then you are not alone.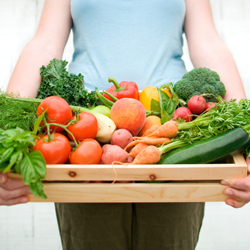 Did you know that the pH of your body affects every aspect of your health?
pH levels regulate, effect, and control practically everything in nature, including your body.
The common cause of disease may come down to three words: acid/alkaline imbalance.
Read on to see how your pH could be preventing you from achieving optimal health.
This is the ultimate nutrition plan for those who are experiencingillness, or those under care who want to get better, quicker. Goodhealth and feeling well goes beyond the realm of eating a few vegetables. If you really want to feel the best you can possibly feel, you need to follow a nutrition program that improves your health and energises your body.
'Health Promoting Nutrition' is writtenby Dr. Hooper to improve or normalise your health. This is something that has been recommended to ALL patients who have attended his practice, to aid and asist in regaining health.