Jazzing Up the School Lunch Box
In the ever constant attempt to keep the school lunchbox interesting, nutritious (and importantly to come home empty) can be a source of hair wringing, stress and frustration for parents and guardians.
Here are a few tips to jazz up the school lunch box.
Keep It Balanced 
What is considered a balanced lunchbox?
Main Lunch
Core Snack
Piece of fruit (seasonal)
Water (not juices as most are full of sugar and make the drink-bottle smelly. They also don't do a very good job of quenching thirst).
+1 Extra snack for active kids
Keep food safe by packing an ice brick or thermos
Pre-planning is Key
Just like planning meals for the week requires fore-thought and planning, so to does the kids lunch box. Include ingredients for the kids lunch boxes in the weekly shop.
Think about what your child likes to eat at home and try to translate that into a lunch box option.
Don't overlook vegetables.  Try cutting up some carrot or celery sticks, blanched beans or even  putting in a handful of cherry tomatoes.
Consider cutting softer fruit up and putting it into a smaller container for protection. Berries, melons and kiwi fruit are some examples.
Dairy (such as a good quality yoghurt) can be hard to include in the lunch box, particularly in hot weather. If you can't safely get a yoghurt into the lunch box, make sure you offer dairy when they comes home from school. Of course if the child is lactose intolerant offer some other alternative such as goats milk or soy yoghurt.
Try putting together a small picnic in lunch box – slices of tomato, ham, grated carrot, grated cheese and some bread/ flatbreads/ rice cakes  so the kids can build their own sandwich.
Leftovers
Cook extra for dinner and creatively use the leftovers in the school lunch box the following day. Examples include a leg of lamb, chicken schnitzel or meatballs. These can than be put in a salad, wrap or even in a lettuce leaf for lunch the following day.
Honey soy chicken 
Ingredients:
125ml (1/2 cup) light soy sauce/ ketcap manis
80ml (1/3 cup) honey
1 lemon, juiced
1 garlic clove, crushed
12 chicken drumsticks or 24 mini drumsticks
Method
Preheat oven to 200°C. Lightly grease a roasting pan.
 Combine soy/ ketcap manis, honey and garlic and lemon juice in a bowl. Add chicken. Toss to coat.
Arrange chicken in roasting pan in a single layer. Roast for 25 minutes or until crisp and cooked through
Serve hot or cold chicken with a crunchy coleslaw (for example).
Use Frozen Wholegrain Bread or Rolls
Making sandwiches from frozen whole grain bread or rolls allows the school lunch to stay fresh. To ensure ultimate freshness, wrap the pre-made roll or sandwich in foil and then puts it in a brown paper bag –  lunch is then always cold and fresh but never soggy!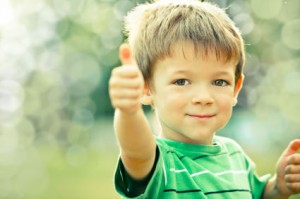 Bread Alternatives 
Sandwiches can get very boring, but you can also use lebanese bread, wraps, rice cakes, English muffins, crispbreads and cracker biscuits with a mix of nutritious fillings. Why not try:
A sliced boiled egg wrapped in cling wrap along with some lettuce leaves to build your sandwich when you are ready to eat it
Leftover roast meat with grated carrot, chopped lettuce and chutney or tomato sauce
Grated cheese and chopped celery, or carrot
Cream cheese and sultanas
Falafel balls and lentil patties are an easy, handy snack and can be used in pita bread and flatbread rolls
Fruits and Vegetables
Chop up vegetables into sticks. Ideas include carrots, celery, blanched green beans and cucumber.
Create variety by adding some Philadelphia cream cheese and sultanas, or putting fruit such as strawberries on a wooden skewer.
Dips
As a snack put natural corn chips, rice cakes or Cruskits in a lunchbox with some mashed avocado, tzatziki or hummus. Depending on the taste buds, add a little something spicy like mexican sauce.
Avacado Dip
Ingredients
5 

ripe avocados

5 tablespoons 

lemon juice
Method
Slice the avocados in half and discard pits. Scoop the flesh from the peels.
Mash the avocados, then add the lemon juice. Mix well.
Spoon into a large sized zip top bag, squeezing out all the air before sealing.
Can be frozen for up to one year.
Make sure that the bag that freezes into a 2.5cm thick sheet. It canteen be easily broken or cut off according to the amount is required. It will defrost quickly on the kitchen counter.
Natural is Always Preferable 
Learn to read the labels of packaged snacks. Many pre-packaged snack bars, yoghurts and cookies have a lot of sugar, fat and salt.
While these are OK one to two times per week always try to avoid foods with preservatives or additives. Consider even making great snacks like muesli bars or pikelets.
They are easy to make ahead of time, they're filling and don't require any extra toppings.
Sesame bars 
Ingredients
2 cups sesame seeds
1 cup raisins
1/2 cup dried, shredded coconut
1/2 cup flaxseed meal (ground flax seeds)
1/2 cup tahini
1/4 cup coconut oil
1/3 cup maple syrup
1 teaspoon pure vanilla extract
3/4 teaspoon sea salt
Method
Place all dry ingredients in a large bowl and stir.
Add remaining ingredients and stir gently with a spoon.
Press mixture FIRMLY down into a large dish. (I use a large brownie pan.)
Cover and freeze for at least 1 hour.
Bars should always be kept in the freezer and eaten when chilled.
Chia seed muesli bars 
Ingredients:
1 cup rolled oats
1/2 cup desiccated coconut
1/2 cup white chia seeds
1/2 cup sunflower kernels
1/2 cup pepitas
1 cup sultanas
1 1/2 cups puffed brown rice
100g butter
1/3 cup golden syrup
1/2 teaspoon of vanilla essence
1 tablespoon brown sugar
You'll also need:
2  16cm x 28cm baking trays
a spray of olive oil to grease one tray
at least 56cm of baking paper
a glass of really cold water
a cutting board
Method:
Grease and line a baking tray, leaving 14cm of extra paper over at each end of the tray.
In a heavy frying pan, toast the oats, coconut, chia seeds, sunflower kernels and pepitas. Stir continuously until the coconut turns golden. Transfer to large bowl and set aside to cool.
Once cooled, add the sultanas and puffed brown rice.
Cook butter, golden syrup, vanilla essence and brown sugar in a small saucepan over medium heat, stirring continuously until sugar dissolves. Bring to the boil and reduce heat to low. Simmer, without stirring, for around 6 minutes.
Drop a little of the mixture into a glass of really cold water and if it forms a soft little ball, it's ready. Remove immediately from the heat and add to the dry ingredients. Stir and stir until all of the dry ingredients are thoroughly coated.
Spoon the mixture into the prepared baking tray. Use a large metal spoon to press the mixture down firmly. Cover the ingredients with the flaps of baking paper and press down further with the metal spoon. You want to make sure it's packed right in there!
Place into the fridge for at least 30 minutes. Take out of the fridge, pull out the muesli slice from the bottom tray using the baking paper and put onto a cutting board. Unwrap and cut into small slices.
Further Reading: